To her own seventeen grandsugars, and thousands of Texas students as well as many, many adults, too (nationwide), Cary's simply Grami. Just ask her to talk about her grandsugars; you'll get an earful! Well here . . . see for yourself . . . 
My oldest is twenty-eight now, and the youngest is one. I have a total of eight boys and nine girls. I always say there is no greater blessing God gives than a new baby, and am so very blessed with all my sugars. And I've started getting them full-grown now as my grands marry! I even have one GREAT-grandsugar and can't wait to have many more! I love being a GREAT GRAMI!!
When I still lived in Irving, a regular fun outing on school holidays was a ride with Grami on the DART bus (Dallas Area Transit System) to the train station in downtown Irving. From there, we'd board the double-decker train herding all my grandsugars on, and we'd ride into Dallas. 
Sometimes we'd go to the mall for shopping, sometimes just to lunch in downtown where we sometimes also rode the street cars and visited landmarks like the West End or Kennedy Museum at the Book Depository. Always a favorite destination was the Dallas Zoo, too.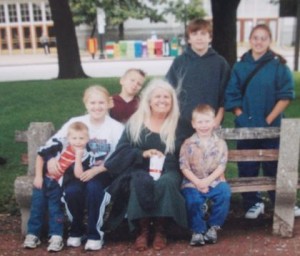 And when there wasn't time to take the bus and train, Grami would go pick up all the sugars and take them to a city park for a picnic lunch. There was another special song God gave Grami for such outings. 
They'd all sing together,♫♥ "We're going to the park today,♪*•.♪♫ and we'll have lots of fun! We'll eat our lunch at the park♪♫¨♪  underneath the sun!♪♫•♪♫ We'll run and jump and swing and slide and play ♪*♥¨♪*.♪♫ and play all day! Hip, hip, hooray! We're going to the park today!"♪♫•*♥¨♪*•.♪♫
On rainy days when Grami couldn't take them to the park, we'd all head to Braum's Ice Cream shop for a double dip cone and a little play in the jungle gym room there. The sugars also liked going for pizza at Crystal's, to Luby's Buffet, and to Grami's favorite Taco Bueno! After there were so many, Grami and O'Pa would take each one out—just them—to their favorite restaurant.
Here's hoping I made lots of memories for my sugars! I couldn't love them more!
My babies started coming in February 1989, making me a Grami before I turned forty!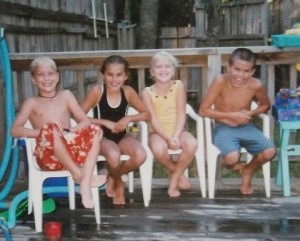 Michael Lawrence was my first grandchild, and his sister Mercedes Michelle, #3. Their mother is Carisa who'd married my second son Greg. In one June weekend the next year, #2 Naomi Elizabeth, my oldest granddaughter and Mama's namesake, came on Saturday and Mercedes came on Sunday! What a wonderful weekend that was! Then in '91, God gave us Naomi's brother Seth Ebeling, #4. Janis is Naomi and Seth's mama, she'd married my firstborn, Matt. These precious sugars were my first 'set' of four!  (L to R – Seth, Mercedes, Naomi, and Michael) Parents worked, so Grami got to spend lots of time with them!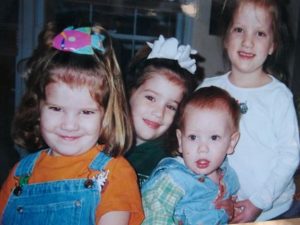 My next set came by my daughter Cathryn who'd married Timothy. She birthed twins, two more girls, Caryn Elise #5 and Anna Lavonne #6 in '94, Joi Lynn #7 in '95, and Wesley Coleman #9 in December of '96 . . . if you do the math, she had four children under the age of four.  (L to R – Joi, Caryn, Wesley, Anna)
When the twins came eight weeks early and only weighed four and a half pounds when they came home, I basically moved in with Cathryn and Tim to help my nineteen-year-old daughter! Joi came the following August, so she still needed lots of help . . . same with Wesley. Though none of these actually lived with us, they were at my house most all day every day for the first five years of their lives, but this Grami loved it.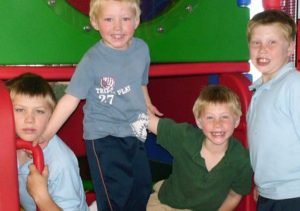 You might have noticed #8 was missing in those eight sugars as Wesley was #9. That's because Matthew Ross came in June 1996 before his cousin! Melissa is his mama, wife of my second son Greg, and she gave me my third set of four! Gregory Brahm #10 followed in August '98, then Christian Cain #11 in September '97. In December 2002, Benjamen Cash #12 was born. These are the four little brothers who God brought to live with me and O'Pa while their parents worked on their testimonies. Benjamen straight home with us from the hospital. His brothers were six, four, and three at the time and we still had our youngest son Russell at home. They lived with us fourteen years.   (L to R – Matthew, Benjamen, Christian, and Gregory)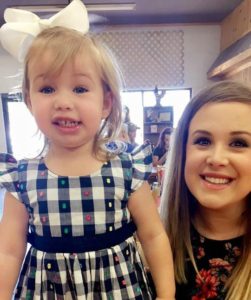 My next five grandsugars were no kind of set. Keldan Joy #13 came into my life as a seventeen-year-old when her mother Dana married my Matt in April of 2012. And then Keldan birthed Haven Kate #15 in March 2014, making my firstborn son a grandfather called Mac and me a GREAT-Grami, known as Grami Mc since Haven has another Grammy!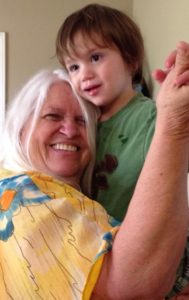 My remarried daughter, when the twins were seniors in high school, gave birth to her fifth child Atticus William Russell my #14! He is a very special little guy Grami loves, but doesn't get to see as often as I'd like. Seems the older I get—or they get—and since we moved away from the Metroplex, there are fewer visits as the parents are all busy. I go to see them and there's always family gatherings.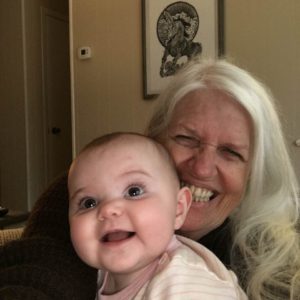 My youngest son Russell, separated by fourteen years from my oldest, waited and waited to marry the sweet lady God created for him in Anna, and they blessed me with my Lillian Jane #16. We call her Lilly. They call her Lilly-pop and I call her my sugardoll! Like Atti, I don't get to see her as often as I'd like. But she knows who I am and will love me. My favorite grandmother lived in California and growing up in Texas, I only got to see her once a year! 
Shaey Ellis McAdoo #17 married my grandson Seth #4 in March 2016 and became my newest McAdoo family addition. She is an angel sweet for my Seth, who loves to hunt and ride motorcycles with him. SHe's really quite perfect for this quite awesome grandson! Very proud of him!
Can you see that I am truly blessed of God? Here are a few more pictures of my grandsugars!  
Shortly after each grandsugar was born, God would give Grami a special song for that baby. They'd all come out different, some country and western sounding, some soft like a lullaby, and some jumpy and jivey, actually quite lively. All the sugars would holler, "Sing my song, Grami! Sing my song next!" Hear some of Grami's songs! 
God has given us a gift in a tiny baby boy! His name is Matthew, and he brings such joy! All the McAdoos—and masseys, too—are as happy as can be! With such a great addition to our family tree!  This is the way Matthew's "special song" starts. Did I tell you that he made the very special Texas A&M Dean's List???
Grami loves her Joi Lynn, JoyLynn Bailey baby,! And she's such a sweetie pie, I just have to kiss her all the time! And that's the start of Joi's song. She's quite the spectacular artist, yet . . . Grami has no art on her wall by Joi! Joi? Joi Lynn . . . Grami loves your art 🙂
Benjamen has TWO songs. One goes, Everybody needs a little Cash, baby, tell me Who?? Loves you?? Since you came my life has been a flash! Baby, I say We !! All do !! Benjamen our #1 –Son of our right hand– Grami and O'Pa just can't help thinking that you're grand! And! Praising God for giving us a YOU! Baby Benjamen Cash McAdoo!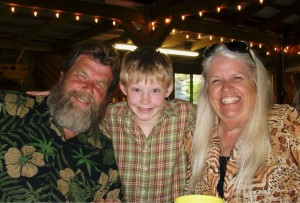 Mercedes' song is one of my favorites. That weekend she and Naomi were born, Naomi was pale and cotton-topped with blue eyes, and Mercedes was dark complected with dark hair and near black eyes, the Indian coming out in her on her mother's side. Her song goes like this:
"My little Mercedes, Grami's dark haired lady! And I always say these. Three words: I. Love. You-ooo! My little Mercedes, right from the very start, You stole your Grami's Heart! You took my breath away! My little Mercedes. My little Mercedes. My little Mercedes, I. Love. You!"  
So one more—now I'll have to come back and add everyone's you know! 
"Grami loves her Joi Lynn! Joi Lynn Bailey baby! And she's such a cutie pie, I just have to kiss her all the time! And I'll tell you sisters (she had Caryn and Anna as sisters–the twins) I surely don't mean maybe! When I say that I'm so glad God sent Joi down to earth and made her mine!"
Well, one more than I must go! Only because you can hear Wesley's song like Gregory Brahm's above! WESLEY' S SONG 
Hanging out at the McAdoo Ranch in Clarksville! Still one of the favorite things to do. After the hunting, we eat together, play some Farkle, laugh and love a lot! 
Now that all the grandsugars are getting older, as well as Grami, AND I moved to the country – – -we don't go as many places together anymore, but I love Love LOVE it when they come to Red River County for a visit.
And I'm expecting more grandbabies and LOTS of great grandsugars, too! :)!
Here's all my grandsugars names:
Michael Lawrence (2-10-89)
Naomi Elizabeth (6-16-90)
Mercedes Michelle (6-17-90)
Seth Ebeling (8-14-91)
Caryn Elise (2-23-94)
Anna Lavonne (2-23-94)
Joi Lynn (8-23-95)
Matthew Ross (6-24-96)
Wesley Coleman (12-7-97)
Gregory Brahm (8-13-98)
Christian Cain (9-1-99)
Benjamen Cash (12-11-02)
Keldan Joy (8-26-92)
Atticus William Russell (9-29-12)
Haven Kate (3-4-15 – 1st great-grand!)
Lillian Jane (2-10-16)
Shaey McAdoo ( – –  / Married my Seth 3-16-16)