a Contemporary Christian Texas Romance Novel
Book Two of the Red River Romance Series
Debuted April 17, 2015.
Set in 1832 on the Texas prairie, VOW UNBROKEN debuted March 4th, 2014 by Howard Books, a division of Simon and Schuster.
The untimely death of her father shatters Mary Esther Robbins' heart and separates her from her grade school best friend, Samuel Levi Baylor.
During the next twenty years, she fulfills her life's dream of penning new songs and singing God's praise with a Christian band, while he tends his growing cattle herd and shares the Good News at every opportunity.
The Lord brings her home then throws them back together when Samuel agrees to help Mary Esther move and remodel her childhood home. The two decades lost vanish, and their time together convinces both the other is the true soul mate. But misunderstanding and fear keeps them from expressing their true love. Though jealousy rears its ugly head, can love and commitment hold the two together? And while they're both dedicated to ministering the Gospel together, can they do it as husband and wife?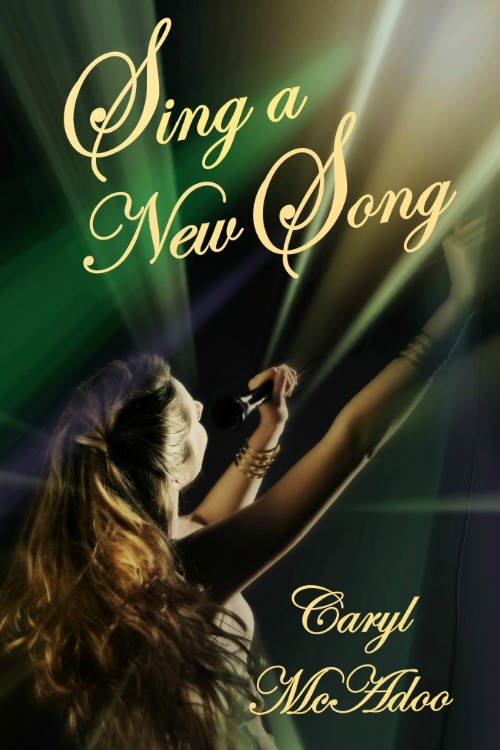 SING A NEW SONG is a delightful breath of Christian air. McAdoo writes in such an eloquent way bringing her audience always nearer to God. She opens her readers' minds to fresh ways of viewing Christian life and all it has to offer. The characters are lovable and react to one another in humorous ways. The romantic tale is just as lovely as always demonstrating Christian virtues we all be best to remember. The story was illuminating in how it shares the Gospel in such a beautiful way. The words from Samuel's sermons as well as the gorgeous lyrics of Mary Esther's songs fill our hearts with new found worship for Our Lord. Truly an inspiring tale. It is Christian fiction in its best; recounting a romantic love story while bringing its readers closer to God. A treasure for sure. –Christine Barber, Canadian author of Broken to Pieces
Disappointed by love, but still saving herself for "Mr. Right", Mary Esther returns to her hometown of Clarksville, Texas and reunites with her best childhood friend, Samuel—the boy who stole her first kiss at the age of twelve and a descendant and namesake of Levi Baylor from Caryl's previous historical novel series which I just enjoy so much. You won't want to miss this modern day romance! I couldn't put it down! Loved it!
Louise Koiner, avid reader, Clarksville, Texas
Christian singer Mary Esther Robbins practices what she sings, but that doesn't keep less dedicated men from trying to entice her away from her values. Fed up with the phonies and burnt out, she decides to break off touring the country with her music group and move back to her ancestral home in Clarksville, Texas. Wandering through her abandon childhood home, she notes the damage caused by neglect.
As she questions her choices, her childhood beau, Samuel Levi Baylor, walks back into her life. While their relationship blossoms, they exercise their respective talents to not only rebuild her home, but to glorify God. Yet beneath their growing attachment, the past casts the long shadow of doubt over their future joy. Once again, Caryl McAdoo has written a love story to tug at the reader's heart strings.
"SING A NEW SONG" seems to be written for the teen and young adult Christian readership, but anyone with conservative Christian values will also find this novella appealing. "SING A NEW SONG" may cause some readers to reconsider their choices in the light of God's standards as written in His Word. In a sense, Mrs. McAdoo is preaching to the choir. Some modern readers may find Caryl McAdoo's values quite old fashioned. Given the context of the story and the moral persuasion of the characters, these ideals fit the moral framework of this novella nicely. For writing and storyline, I've given "SING A NEW SONG" five stars.
Cassandra Wessell, reader and writer in Pennsylvania