a Contemporary Christian Romance Novel
Book One of the Red River Romance series
Debuted February 2, 2015.
Can the orphaned preacher and the heartbroken rodeo queen navigate the path to true love with a lie and an ex-beau blocking their way?
Learning of Faith Johnson's rash promise to her father, New Hope Baptist's interim preacher Asa Davidson shows up to apply for the position—of husband.
The cowgirl was only trying to give her dying father hope promising to marry the first thirty-something-year-old Christian virgin to ask. Who'd ever dream one existed in all of Texas, much less Red River County? But sure enough, one comes a'courting the very next day thanks to the Lord and Daddy's baby sister, loud mouth Aunt Iris.
Faith is appalled, but a promise is a promise. She only needs to figure a way out.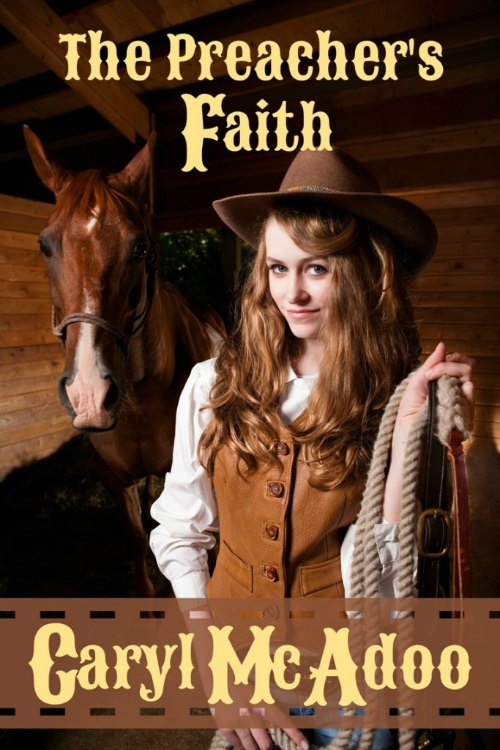 Great Story! Hope there's a sequel. I love to see the artful dodger as a part of it, maybe a reunion? And he could find his mother. Just love curling up in an afghan and cup of cappuccino and reading Caryl's books!
Lenda Selph, New Boston, Texas
The Preacher's Faith, as with all Caryl McAdoo's novels, is full of good scriptural advice. The title is a play on words…does 'faith' refer to a personal faith or the person Faith or both? Have a read and decide for yourself. …a quick and easy read, and just right for a cold winter's day – your heart will be warmed by this delightful little story.
Julia Wilson, UK
This was my first book to read by Caryl McAdoo and I absolutely loved it. I will be reading more. I love the way she prays that her story gives God Glory and dedicates The Preacher's Faith to Him and His Kingdom. You will find the two main characters, Faith and Asa, talk back and forth discussing scriptures. [It's] a good clean book to read. I was drawn into this story right from the start. I loved this book and can't wait for book two.
Elizabeth Dent, Alabama