I'll readily admit that in high school, I was not a history buff. I sure married one though, and Historical Romance has definitely become my favorite genre both to write and read. My dear husband has never worn me out with baseball or football games on the tube, but let a Civil War series or WWII documentary come on . . . He loves history and has helped me to see the light!
The Texas Romance Family Saga has been such a labor of love as these characters are like family! I think you'll feel the same about the Buckmeyers, the Baylors, and the Nightingales!
1) Vow Unbroken, 1832, Susannah 'Sue'  /  2) Hearts Stolen, 1839-1844, Sassy  /  3) Hope Reborn, 1850-1851, May  /  4) Sins of the Mothers, 1851-1853, Mary Rachel  /  5) Daughters of the Heart, 1853-1854, Gwendolyn, Cecelia, and Bonnie  /  6) Just Kin, 1861-1866, Charley Nightingale  /  7) At Liberty to Love, 1867, Rebecca  /  8) Covering Love, 1867 and 1885, Houston, Charlotte, Crockett  /  9) Mighty to Save, 1850-1860 and 1921, Pearl and Evelyn  / 10) Chief of Sinners, 1926-1950, Buddy      
The Texas Romance Family Saga series starts in 1832, the year before my new hometown of Clarksville, seat today of Red River County in far Northeast Texas (known as Tejas then–a part of  Mexico) was founded. The state didn't win its independence until four years later in April of 1836 at the Battle of San Jacinto. 
Of the histories academia required of me, Texas' was without a doubt my favorite. I live in an amazing state, and its days of yore are awesome to study. But Red River County–I thank God for bringing me here–is so rich with history! I cannot get enough.
And oh, my! I am so very blessed God called me to write historical Christian romance. To tell a story in which I'm free to honor Him and bring Him glory is so amazing. I love taking Truth from His Living Word and working it into my characters' beliefs and faith, a natural part of the story.
For instance, not to worry or to trust God no matter what the circumstances. I pray I can show my readers through my character's testimony that God will always keep them, provide every need, and even give them the desires of their hearts. I hope to share His love, mercy, and grace.
Habakkuk 2:3 is one of my favorite scriptures as He gave it to me for my life. It's dated in the margin of my Bible. He told me in my heart to hold fast to the vision and promised me it would come to pass. So of course, my character has to have a vision that seems like it will never come to fruition. From scripture we are assured, though it may tarry, it will come.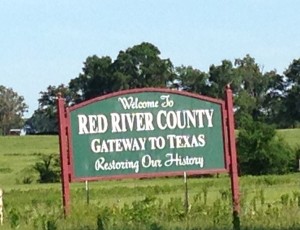 Red River County used to be so big that today, nine counties comprise the same territory. Sam Houston, Davy Crockett, Jim Bowie, Mirabeau Lamar–they all traveled up the Red River and came into Texas through land that I've come to love. The first time I saw this welcome sign, I got glory bumps! "Welcome to Red River County, Gateway to Texas!"
It's strange to explain why I so love this area; my heart miraculously bonded. I love the town square, the streets and homes, the farm fields, the woods, the land, and its people. I don't ever want to live anywhere else. If I go by the way of the grave, I want to be buried in Red River County.
So when my New York agent asked me to write a historical Christian romance set in the 1800s, my brain never even thought about England with her Brits or the early colonies of America's east coast. There was never any question that my story would be set anywhere but in Texas! And in my own part of this great state! 
Having started the Red River Writers' Workshop, Ron and I had a founding member, a retired history teacher, who brought his non-fiction area history chapters to read then receive critique. Marion Butts once read about how in the early 1800s, the neighbors would load their harvests, put together in a wagon train for safety, then haul their crops south to market. He mentioned the Jefferson Trace and how our land in Red River County was great for growing cotton.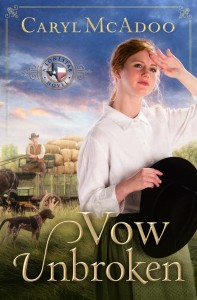 Ta da! A journey for my heroine! And the premise for book one VOW UNBROKEN, 1832, was fleshed out in a brainstorming session with my husband at Taco Bueno. No, there are no Taco Buenos in Clarksville. We had just dropped that agent off at the airport for her flight home. So while in town . . . I love tacos! 
Susannah, a widow with two children struggles for ten years, but her best crop ever is ready for market. She thinks it's sold to a local merchant, so she doesn't go with neighbors on the annual wagon train to Jefferson where the buyers are. But everything goes wrong. She does trust God, but often listens to lies whispered in her thoughts and loses hope. Life's been hard, and she's had no one–but God–to lean on. She can't go back to her daddy and walk away from the inheritance her husband and his brother left the children. Yet, she's vowed to God not to marry again without his blessings. Enter hero Patrick Henry Buckmeyer . . . but will he truly help or only make things worse?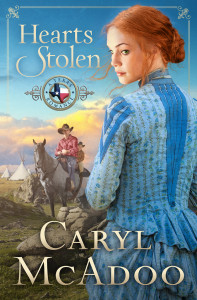 Book two HEARTS STOLEN, 1839-1844, hails the fourteen-year-old nephew Levi in Vow Unbroken all grown up to be a Texas Ranger of the Republic! His heroine, Rosaleen 'Sassy' Fogelsong marries an older man at the young age of fifteen and being the only girl and youngest of six has a little trouble submitting. This gets her in trouble; two Comanche braves capture her off the Texas prairie, but her family knows nothing of her plight. She spends five years as the third wife of Chief Bold Eagle. Her tow-headed son Charley (son of her husband) is accepted as the chief's son. Then Sergeant Levi Baylor is dispatched with his Texas Ranger to pick up the white women and children stolen by the Comanche. Except to his and her dismay, Sassy is not on his list. She's determined though that she will either go with him or die. She will not remain captive another day!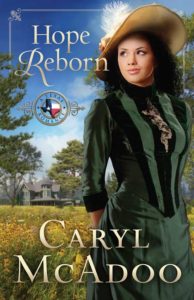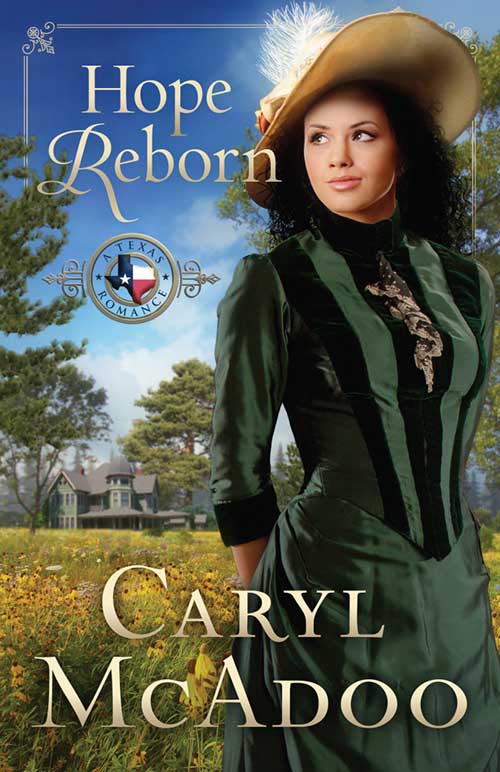 Book Three HOPE REBORN begins in 1850 and ends in 1851. IN it, readers meet the highly, successful New York novelist May Meriwether. I really enjoyed her character and her being a writer, sharing many of my own frustrations and triumphs. Bored with the same old stories, she decides to travel to Texas and meet a famous Ranger she's read about in the newspaper, hoping to find inspiration for a new sort of rugged hero for her stories. In the Lone Star State, besides finding a bevy of fans, she meets someone who stirs something long dead inside her–or so she thought. A widower resurrects her dreams, but he's still devoted to his deceased wife, and not to mention his fanatical beliefs in a fairy-tale, omnipotent being. May harbors dark secrets though, and if he ever knew . . .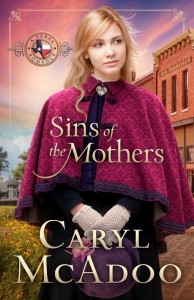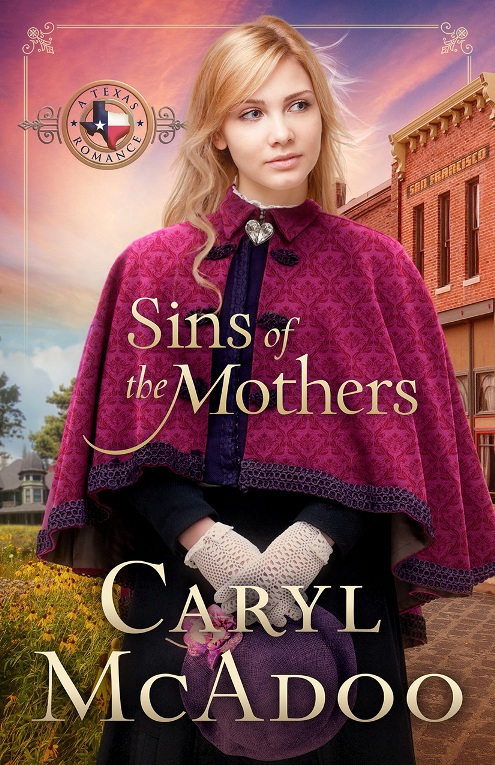 Book Four SINS OF THE MOTHERS (1851 -1853) picks right up in the same scene at the end of book three, when she tells her daddy she isn't going to Europe. He's barely gone before she lights out to elope with the man he disapproved. The newlyweds are off to the gold fields of California. Caleb Wheeler knows well enough he can't stay in Red River County, so talks the one who loves him into partnering with his cousin in San Francisco, John's Dry Goods. The cad's sent the one he loves, John's sister Lanelle, on ahead. Oh, what a tangled web we do weave when we practice to deceive. Nothing goes right for sweet Mary Rachel, and the poor girl just keeps digging the hole deeper with her bad choices. For someone so smart . . . one might think . . . Everyone she meets loves her, who wouldn't?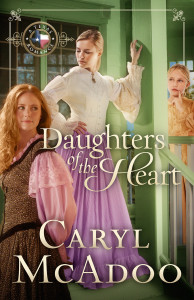 Book Five DAUGHTERS OF THE HEART (1853 -1854) begins in the same year where book four ends. Mary Rachel's sisters, Gwendolyn and Cecelia are coming of age, and twelve-year-old Bonnie wishes she was, too. Gwen leads the sisters to make a pact never to break Daddy's heart like their older sister did, then almost as soon as it's done and suitors show up, the daughters find it a difficult promise to keep. Their father, on the other hand, has never been so beside himself, hating that men are showing up who want to take his babies away. He's inclined to shoot every single one and feed them to the hogs. Praise the Lord for a levelheaded wife who helps him navigate through the feminine chaos that's descended on his home.
JUST KIN, book six (1861-1866) jumps a near decade ahead seeing the Buckmeyer, Baylor, and Nightingale men off to the Civil War. 
Blessings from Texas!
VOW UNBROKEN            1832 / Susannah Baylor               Buy VOW Now
HEARTS STOLEN        1839-1844 / Sassy Nightengale     Buy HEARTS Now
HOPE REBORN              1850-1851 / May Merriwether      Buy HOPE Now
SINS OF THE MOTHERS  1851-1853 / Mary Buckmeyer  Buy MOTHERS Now
DAUGHTERS OF THE HEART 1853-1854 Gwendolyn    Buy DAUGHTERS Now                                                                       and  Cecelia Buckmeyer
THE FUTURE for this SERIES 
God willing, Book six JUST KIN, 1861-1864 debuts January 2, 2016. The Civil War has  begun, Texas has sided with the Confederates, and though Henry hates slavery, he loves Texas more, and goes to war with Levi and Wallace, Charley, Houston, and Bart. On the day they leave, after the photographer has shot plenty of photos, Lacey Rose (born in book two Hearts Stolen) kisses Charley good-bye. Her act leads to her running off to live a life that's so different from any she could have imagined. Will Charley go after her? Can he even try without deserting?
Book seven AT LIBERTY TO LOVE, 1865-1868 debuts May 15, 2016 and will take place in San Francisco when two sisters, Rebecca and Bonnie go to visit Mary Rachel and her family there.
Book eight THE BEDWARMER'S SON, 1858-1866 and 1929 next September, and book nine THE CHIEF OF SINNERS, 1926-1950, with Broderick Eversole Nightingale (Charley's grandson) as hero, are planned. And a companion story THE SON OF PROMISE, 1951, with Travis Buckmeyer as hero.
You're sure to have fun with a new contemporary Red River Romance series with a few more Christian romances that have the descendants of the Buckmeyers and Baylors in them:  titled THE PREACHER'S FAITH, SING A NEW SONG, THE PITCH and ACQUIRING A WIFE.
ALL if the Lord is willing, of course.
  Long Live Texas!!