a Historical Christian Texas Romance Novel
Book Ten
Set in 1926-1950.
Obedience can overcome ruinous choices, and with the repentance of wicked ways, God's faithful forgiveness and mercies never fail.
Set in the afterglow of the Azusa Street Revival, this epic addition to the Texas Romance family saga sweeps through three decades of triumphs and tragedies—from the Texas Hill Country to the beaches of Normandy and beyond.
The faithful flock to his father's revival tent where Buddy Nightingale leads praise and worship, but like King David, the young psalmist battles a generational curse, lust. On his first night back in Marble Falls, Texas—the place he heard the angels sing fifteen years prior—he beholds Sandra Harris, a beauty attending strictly for the entertainment of the Spirit-filled meeting. Love strikes both, but her Church of Christ father wants no part of any holy roller—not for his daughter.
Sometimes choices we make take us places we never intend to go, but God . . .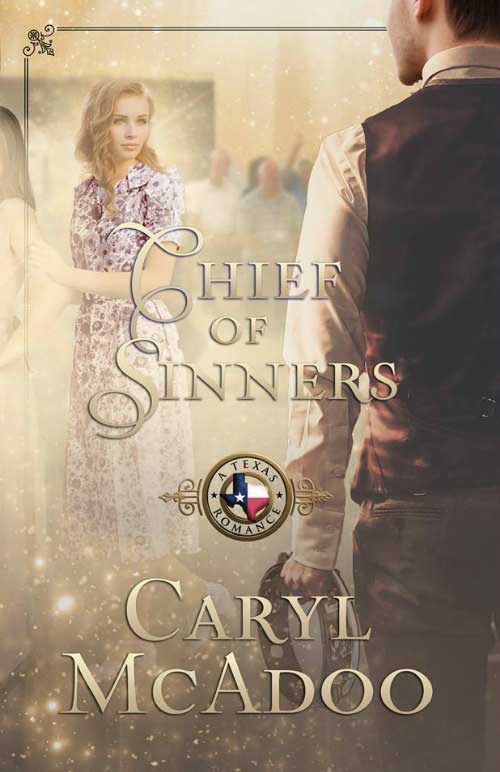 I believe this one is my favorite, the most gripping and emotional. A few times I wanted to grab a couple of tissues. I just could not stop reading. So many twists and turns involved. Such a wonderful story that show the power of forgiveness, letting go, moving on and having second chances. The book is full of faith and inspiration. Christian Fiction cannot get better than this. Chief of Sinners is most definitely a must read. 100 stars!
Amy Campbell, reader
Caryl and Ron McAdoo's storytelling never ceases to amaze! At over 400 pages Chief of Sinners is a tome! Dealing with tough topics, I'd not categorize this book as a classic romance, nor is it chic lit, but it rings true to life! Very believable characters, their struggles described in vivid terms, totally grab the imagination. No sanitized, saintly Christian read dealing with issues like mental illness and infidelity, but so good it took me hostage. Couldn't put it down. If you're looking for a sweet romance to cuddle up with, this isn't the book for you. But if you loved the gritty, "Gone with the Wind," you'll love "Chief of Sinners!"
Cass Wessel, mulit-published devotional author, and wordsabouttheWord.com