a Historical Christian Texas Romance Novel
Set in 1851-1853 beginning in the new State of Texas, debuted May 3rd, 2015.
Persistent faith brings redemption and reconciliation.
Blind love propels Mary Rachel to defy her father and elope to California with Caleb Wheeler. The newlyweds partner with his cousin in his San Francisco dry goods business. Unbeknownst to the young bride, her new husband sends his kissing cousin ahead to have both his love and his new wife's money. Betrayal and murder drive Mary, soon a young mother, to the depths of despair. Is there a man who can love her enough to cover her sins and deliver her out of the horrible pit she's dug for herself? She travels from frontier Texas to the raw bone boomtown of 1850's gold rush days, then all the way to genteel New York to find redemption for the sins of her mothers.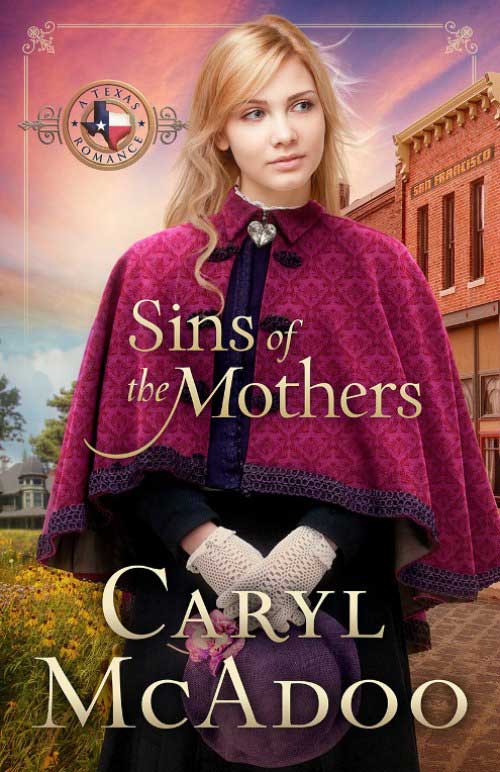 I've often wondered if the past can repeat itself in a person's life and Mary Rachel Buckmeyer gave me my answer. Love, betrayal, despair, the sweet faith of little children, and the perseverance of a miner. These all made for a wonderful story of what life was like in San Francisco during the gold rush of the 1850's. When I finished the last page of Mary's story, I smiled and thought… I loved this story! But… There had better be another book coming because I want more of these Buckmeyer's! I'd recommend this story to anyone who enjoys reading a good Christian, historical fiction of the 1800's.
Deanna Stevens, Nebraska reader
Caryl McAdoo does it again with what I think is the best book yet in this series. The characters are so real and have a heap of real issues on their plates from page one. Pick it up, and you won't be able to put it down.
Holly Michael
There are so many biblical truths and parallels in the novel that it is hard to know where to begin. I think it is true to say that, although set in the nineteenth century, this is a modern retelling of the stories of both the prodigal son and Hosea. It also deals with the generations being cursed and shows one cannot live a life looking backwards at mistakes and regrets. The theme of forgiveness is highlighted. Reading the novel, I was reminded of God's words to take care of the widows and orphans. A delightful young orphan called Francy was delightfully drawn, and I loved her exchanges of dialogue.
The novel demonstrates the importance of listening for God to speak—not always in the form of a voice, but can be just a feeling in one's heart—and the need to be obedient to God's calling. The evils of drink are portrayed when several characters are unable to make wise judgements, after having partaken.
Mary Rachel is a strong female character who has her flaws—far too trusting of men, believing what they tell her. She is, in consequence, very human, and very likeable. I always enjoy reading Caryl McAdoo's Texas Romance novels, and have a hard time putting them down. This latest offering is no exception!
Julia Wilson, United Kingdom reader
Another great story of Christian love. It has strong characters and great story of second chances. The story of Hosea marrying the harlot is interwoven into the plot. The witness of God's voice speaking to you, forgiveness, and God giving you the desire of your heart if you listen to His voice is also interwoven into the plot. I love the romance, history, and faith. Can't wait for the next book. Caryl McAdoo is an awesome writer.
Joy Gibson, Tenessee reader
I have loved this series about early Texas and SINS OF THE MOTHERS is a wonderful addition to the series. Starting this book was like getting reacquainted with close friends you haven't seen for awhile. Caryl's writing pulls you into the story from the first pages and keeps you reading to see what is going to happen next. I was given a copy of this book in return for an honest review, and this book and the prior ones in the series are ones that I definitely recommend to anyone who enjoys good faith based historical fiction and romance. I am looking forward to the next book in the series.
Ann Ellison, Texas reader