GREAT FIREHOUSE COOKS OF TEXAS
Over 200 recipes from Firemen all over the state!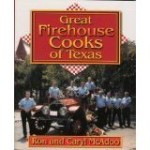 Ron and Caryl McAdoo have gathered over two hundred recipes from forty-one Texas firemen, and they are indeed the reason why most will purchase this book, but the profiles this couple wrote about these brave public servants capture the essence of the profession. You'll learn so much you never knew about firefighters and both laugh and cry when you meet the McAdoo's valiant heroes.
Endorsements:
The McAdoos' chatty, folksy style gives us an endearing glimpse into the lives of some of Texas' courageous firefighters and a peek into firehouse kitchens across the state. And the recipes sound yummy with such down-home names as Mom's Buttermilk Pie, Opa's Sausage Gravy, and Uncle Mike's Chicken 'N Dumplin's.  Sharry Buckner, Top Texas Chefs: Favorite Recipes
Susan Johnson, Head Chef at the Texas Star in Euless, Texas "Great Firehouse Cooks of Texas is loaded with great Texas recipes you'll cook over and over again. What a treat!"
Mimi Ayers, Quilts Exotica "Finished your cook book, and enjoyed learning more about firemen than I ever dreamed. Look forward to trying the recipes."
Excerpt: Thought y'all might like to try a recipe from the book, this one is for a scratch pineapple cake. Everyone: firemen, family and friends love this cake.
MAW MAW'S PINEAPPLE CAKE
4 tbsp. Butter
3 tbsp. Sugar
2 c. Flour
2 c. Sugar
2 Eggs
2 ts. Baking Soda
15 oz. Crushed pineapple (one can, do not drain)
8 oz. Philadelphia Cream Cheese
16 oz. Powdered Sugar (to taste)
1 tsp. Vanilla
½ c. Pecans – chopped (optional)
1) Preheat oven to 325 degrees.
2) Smear the bottom and sides of a 9x13 inch GLASS (metal messes with the acids in the pineapple) baking pan with butter. I usually cut a stick in half, keeping the paper on the end, then use the wrapped part as my handle. Make sure to get those corners. Pour the three tablespoons of sugar in and shake around in pan until it's sugar coated instead of flour which I do on all my cakes. Set aside.
3) Place first five ingredients, including pineapple juice from can into mixing bowl.
4) Stir by hand with a wooden or plastic spoon. It will still look lumpy when it's well mixed.
5) Pour into pan. Holding the filled pan about two to three inches above the kitchen counter, drop it. Air bubbles will come to the top and burst. This air-removal method works on all cakes, too.
6) Bake twenty-five to thirty-five minutes until top is golden brown. Forget the knife test. This cake stays to moist, somewhat gooey.
7) While your cake's in the oven, for the icing, cream the cheese, powdered sugar, butter, and vanilla together until there are no lumps. Set aside.
8) Allow cake to cool on rack for about ten minutes, then ice. It should still be warm.
9) Sprinkle with nuts if desired.
Cook's note: Mama had this cake almost every Sunday when we gathered for dinner. After she went to live in the Lord's presence, Caryl started baking this 'from scratch' cake pretty regular. These days, some of our fourteen grandchildren think they can't have a birthday party without one, and they all call it 'GRAMI'S Pineapple Cake'. It's a great dessert to take to gatherings. Everyone raves! And the best part? It's so easy.
ANTIQUING IN NORTH TEXAS, A Guide to Antique Shops, Malls, and Markets

Ron and Caryl McAdoo personally visited and reviewed over six hundred establishments within an hour-and-a-half radius of the DFW Airport for the project. Besides writing a paragraph or two on each shop or mall to offer a little of its flavor, the McAdoos rated each with one to four stars and one to four dollar signs. Pertinent information such as address, proprietor's names, phone and fax numbers, hours of operation, and website or e-mail address may also be found to make planning an antiquing trip a breeze for their readers.
 
Endorsement: The president of the National Association of Dealers in Antiques (NADA), Milton Talbert, Jr. "In ANTIQUING IN NORTH TEXAS the editorial comments, maps, and ratings make this regional directory an invaluable asset for collectors and dealers. This is an essential tool for the time conscious traveler."
Antiquing Tips:  Saturday is the best day of the week, Mondays are the worst as most are all closed, except in smaller towns where they're closed on Sunday, too.  Many malls and shops routinely build in a ten percent mark-up for negotiators, so ask for a discount before you buy.  Carry a small purse and wear comfortable shoes.