Prequelettes 0f Vow Unbroken
Scroll down to see them all... YOUNG LOVE, Susannah and Andrew fall in love  /  DEAR DADDY, Susannah writes her father  /  GOD PROVIDES, according to His riches in glory  /  GOSSIP MONGERS of Red River Valley  /  REBECCA'S PRAYER, She's never had a daddy  /  MAN'S BEST FRIEND, the best dog Henry ever had 
YOUNG LOVE... Susannah and Andrew fall in love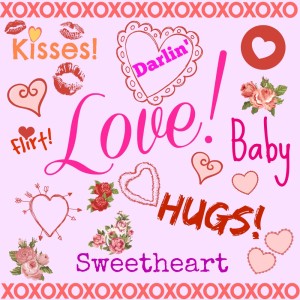 Sue studied his new wagon. It looked a lot different than any she'd ever seen.
"Isn't she grand? Heavy and well built?" He walked around the latest purchase he and his brother bought from the sale of their father's estate. He looked so proud. "Yessiree, it'll haul all the timber me and Jacob could cut in a month."
His unbridled exuberance caused a smile to blossom in her heart and bloom on her face. "It looks like a fine wagon, Andrew. I'm happy for you."
"For us! It's our future, Susannah. Oh, it needs another coat of oil, and I'm going to stretch the canvas, but it'll do. She'll get us there." He turned from what she absolutely knew was the most expensive belonging he'd ever owned and faced her. "Did you talk with him?"
Her rose wilted then died, only thorns left to pierce. She examined the ground a moment before meeting his eye again. "I did. Last night right after supper."
"Well? What did he say?"
She shook her head. "My father's pigheaded and doesn't understand. Says we're too young." Andy's hand reached toward her face, and he wiped a tear away. "Daddy said no. He will not give us his blessing."
Her love slipped his hand over hers, his fingertip still wet. "Sue, we're both of age. We don't have to have his permission."
She closed her eyes. Why was this happening? Why did she have to choose between the two men she loved the most in the whole world? It wasn't fair. "Andy, can't we wait? Maybe in the spring…"
"No, I just cannot. I gave my brother my word. Once the wagon's finished, I'm leaving. I have to. Everything has fallen into place, Sue. We'll be full partners."
"Your brother… He'd understand, wouldn't he? What's six months?"
"Exactly. The Judge isn't going to change his mind. He wants you to stay right there in that big ol' house cooking and cleaning like it's always been since your mom passed. He can't stand the thought of his little girl getting married and going west. Besides, there's no way for me to get word to Jacob. I've got to go. Please." He lifted her chin. "Come."
What could she say? Of course he was right. Her father would be all alone. Him not wanting things to change... She understood, but couldn't he see she was grown? He wanted her to stay twelve, but at eighteen, she was as mature as she was ever going to get. Most of her friends had already started a family. But could she leave him?
She looked skyward. Change his mind, Lord. Make him see.
She smiled again at Andrew. "I love you."
"I love you, too. So what's it to be? Will you go west with me? Start our new life?"
She hated the look in his eyes. The same fear lurked in her heart. She couldn't let him go, not again. "Can we come back to visit?"
"You promise we'll come back?"
"You have my word. Three years at the most."
She took both of his hands in hers and searched his eyes. He loved her, she was certain. "Yes. A thousand times, yes. I will marry you, Andrew Baylor."
DEAR DADDY, 
Susannah writes her father...
How would she ever do it? How could she? Alone and pregnant with an orphaned four-year-old. How would she provide for herself and the boy? Deliver a baby out on the prairie with no doctors for a hundred miles? Oh, God, I'm so scared. I'm so tired. I need Your help. You have to guide me. She let her head fall into her hands and wept, didn't know how long, but then she stood, wiped her face, and fetched Jacob's ink well, paper, and quill.
January 5, 1823
Dear Daddy,
I don't know where to begin except to say that I'm sorry, and I love you. Andrew and I made the trip out to Tejas just fine, and he and his brother – they were really doing great. The business was growing, we had so many new customers, and there's been plenty of money coming in.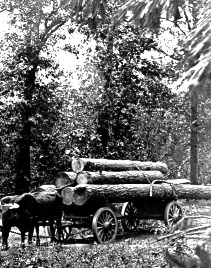 We were so happy, so in love. But then there was an accident. It was raining, Daddy, and the wagon and logs and oxen and men  barely at first. There was a creek, and the wagon loaded full of timber. The oxen slipped, rolled down the creek bank all together. It was horrible… so awful. The most terrible night of my life. Andy… and his brother Jacob…
 They're gone, both of them.
The tears flooded her eyes again and refused to be contained. It was all her fault. Andrew dying, Jacob, poor little Levi not having his mama and now no daddy. She never should have come. She should have obeyed her father, listened to him instead of thinking she knew everything. I'm sorry, Lord, so sorry. But how can I fix it now? What can I do? She sniffed and wiped her nose on her sleeve then dipped the quill again.
Please forgive me, Daddy. You have to. I need to know that you forgive me. I promise you this—and I promise God, too, Daddy—I will never marry again without your blessing. I vow before my Holy God. I'm so sorry that Andrew had to die and his brother, all because I didn't honor you like I should have.
I don't know what I'll do, but I can't walk away and leave everything the Baylor brothers worked so hard for, gave their lives for. It's the children's inheritance. I can't steal it from them.
Yes, children; I'm pregnant. You're going to be a grandfather this summer, June I believe, maybe early July. Andrew didn't know before he passed. And there's Jacob's boy Levi, he's just turned five. His mama died at birth, so the porr little thing's an orphan now and I'm his only family here.
Maybe you could come, Daddy, for a visit? Andy promised we could come back to Memphis next year, but I don't know how I possibly could by myself with two little ones. I was so wrong when I told you that I was as mature as I'd ever get… I was wrong, and I know you were right now.
I love you, Daddy, and I am sorry. Please write me back. I pray I find someone soon headed east and that this letter finds its way to you. May God bless you until we once again see each other.
Your daughter, Susannah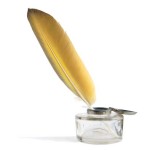 She blew on the paper and waved it in the air trying to bring an image of her father to mind, but she could only hear him telling her to not to go. Hopefully, he could find it in his heart to forgive her, but how could she know? If he didn't come or write back, would she ever? She glanced across the one room cabin and the little sleeping hump in her bed. Precious little boy. Well, she was all he had, he belonged to her now. With God's help, she'd see to it that no further harm would ever come to him. Her hand went to her abdomen and she rubbed it. Maybe he'd have a little brother come summer. She smiled. Or a little sister-cousin. She'd have to think about names for both, but there was plenty of time for that.
GOD PROVIDES... according to His riches in Glory
"Hey, Auntie, what is ya doing on your knees? Ya hurt?" Sue turned and held an arm out. Little Levi walked into her embrace and wrapped around her as far as he could reach.
She kissed the top of his head. "No, sweetheart, I'm praying."
"Oh." He grinned. "We eating dinner on the bed today?"
She picked him up, carried him to the rocker, then eased down. "No, sweetie, I talk to God all the time, not just before meals."
He snuggled tight. "Oh."
For a good while, she rocked her nephew with his head resting on her shoulder, then as though he'd had enough mothering, he slipped out of her lap. Smiling as only a five-year-old could, he rubbed her tummy. "He don't like me squishing him."
"Could you feel the baby kicking?"
"Yep."
She tousled his hair. "Remember you manners, please."
"Yes, ma'am. He kicked me to make me get up."
She nodded toward the door. "You can go play for a bit. The beans need to boil a while longer."
He nodded then touched her belly again. "Hurry up cookin' my brother, will ya?" He spun whinnying for his imaginary horse then galloped out the door.
That night after she finally got Levi to sleep, she returned to her knees beside her bed. "Oh, Lord, help us. Send someone to buy the sawmill, please. I don't want to sell any land. And Father, You know the beans are about gone. The turnips are coming on, but the boy needs meat, and we're running real low on powder and shot. A milk cow would sure be great, too."
She closed her eyes and pressed her forehead into the quilt. "Ease my heart, Lord, and heal it. Sometimes I miss Andy so bad, but You know. You know everything. Tell him I'm sorry, and that we're making it." She raised her head and looked to the ceiling. "I love you, Lord, and thank you for your many blessings. Not my will but Yours Father. Help me know what you want me to do. In Jesus name, amen."
As most nights, Levi slipped into her bed. Poor little thing; haunted too long by nightmares of that most horrible day. Terrible for a little boy to see his father killed right before his eyes. Not much better for her, and she was twenty years old. Would she ever forget seeing the awful accident that took the lives of her husband and his brother?
That next day started like most, cold cornbread with a slop of molasses. Too soon, it'd be cornbread only. Next, she and the boy worked the ground, except mostly he rode the mule while she guided the plow.
So far, she'd only managed to break barely over two acres. Even though she had enough seed for three, if she didn't get the plowing done before the rains set in… And with her belly swelling by the day, she wasn't sure she'd even be able to get any cotton planted come spring.
Levi sat taller on the mule and pointed east. "Auntie, look."
She stopped the mule, tied off the reins and shaded her eyes, but couldn't make out the driver or recognize the team. "Run get the rifle."
He slid off Mabel, and she stepped away from the fresh plowed ground. Before the boy got back, the teamster stood waved his hat then sat back down. Seemed friendly, but that didn't stop her pulse quickening or her breath coming harder.
"Here, Auntie Sue."
She took the long gun, cradled it across her chest, then went out to meet the man. Levi ran off galloping and whinnying. "Don't go far, young man."
Shortly, her visitor stopped the team. "Morning, ma'am. I heard tell about your man and his brother getting themselves kilt. Right bad shame I's plenty sorry to hear. You got my condolences."
"Thank you, sir." He looked familiar, but she couldn't figure out why. "Do I know you?"
"Well, yes'em, leastwise I was here back in the spring. Took a load of saw boards off your hands to San Antonio."
Of course, she nodded. "Yes, that's right. It's so good of you to stop by, and I certainly appreciate your kind words."
He locked the break then climbed down. "Ma'am, Mister Jacob wanted surety, and I give him my pap's gold watch. I gots the coin now for them saw boards and come after Pap's timepiece."
"Yes, I remember that." She closed her eyes and searched her memory. Where had her bother in law put it? She could see the thing plain as day, but couldn't put her mind's finger on exactly where. "But to tell you true, I'm not sure where it is. Let me go look."
"Well, while you're findin' it, don't suppose you'd mind me workin' your mule while I's stretch my legs breaking a bit of this fine black land." He smiled.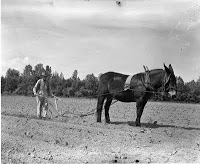 "Why, no. not at all, and you'll surely let me heat up some dinner after I find the watch. The least I can do is feed you after you coming all this way."
He tipped his hat then wrapped the harness straps over his shoulder. "I'd be much obliged, ma'am."
She hurried inside and between searching and cooking, praised the Lord with every step. The teamster had brought coin. How much was it?
Shortly she had a pan of cornbread a nice mess of turnip greens with yesterday's beans hot, but she hadn't located the man's watch. She'd looked everywhere, could it have been lost during the accident?
For sure, watch or not, dinner needed eating. Once around the treeline guarding her home, the man turned the far corner, and she waved him in. He'd turned two right smart rows and a good start on a third. How could he have plowed that much in such a short time?
She watched him tie off the mule, then hollered up her nephew. "Levi, come eat."
Grace offered, she ladled her visitor's and Levi's bowls full of beans then stood. "Sir, I've not been able to find your watch. I hope you won't mind staying a little longer. I intend to keep looking through your meal."
"Hey." Levi dug into his pocket. "This here what'chur lookin' for, Auntie?" He held the chained watch out in his little dirty hand. "I got it."
"Levi!" Horrified, she took the timepiece then passed it to the teamster. "I'm so sorry, sir. I don't know what to say. I had no idea –"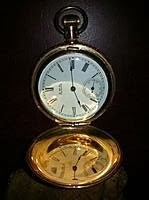 The man's hearty laugh cut her off. "Naw, no problem at all." He looked to the boy. "Thank you, son, for taking good care of it for me."
Levi beamed. The man promptly handed over four gold coins, at least a year's worth of hard money. She enjoyed his company at dinner, catching up on the news. Hadn't realized how she'd missed having an adult to converse with and promised herself a visit to the Dawsons soon. How long since she'd seen Elaine?
"Yes, ma'am! Can we buy us a cow now?"
"I think that's a grand idea."
"Good, 'cause my brother needs plenty of milk."
She smiled, nowhere near ready to explain about nursing mothers. "What's if the baby is a girl?"