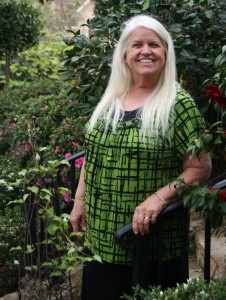 Born a prune picker in Long Beach, California, Caryl McAdoo got to Texas as quickly as possible at the too-young-to-remember-anything-else age of six months and celebrated her first birthday—and all the rest since—a Texan. Growing up in Northwest Dallas, as a seventh-grader at Letot Elementary, a homework assignment required an essay on 'What will you be doing in 2000?' Looking into the future, Caryl saw herself as an intergalactically famous author, streaking from planet to planet signing books.
That same year, her family moved past the Big D city limits to Irving where she met her husband (an Irving High School football hero) the summer before their junior year, married him quick as they graduated (she from the town rival Mac Arthur High), birthed four children, and enjoyed life close to lots of family and friends. Irving was her lifelong home until 2008 when she and Ron followed God's leading to Red River County in far Northeast Texas.
Though she'd dreamed of penning novels, her husband started writing first. An avid reader, Ron read a disappointing novel and thought, 'If that lady can get published, I know I can!' He began a story in '89, Caryl joined in—they do pretty much everything together—and by '91 they'd handwritten their first three hundred eighty page novel, a Biblical fiction titled IN THE BEGINNING as yet to be published. (Side note – first books usually needed to be re-written the most!)
God directed the McAdoos to the DFW Writers' Workshop in '93, and they discovered they'd made all the beginner mistakes a writer could possibly make—everyone! But a few of the published authors saw something there, took Ron and Caryl under their wings, and mentored them. Six years later, their first co-authored non-fiction was published ANTIQUING IN NORTH TEXAS followed the next year by GREAT FIREHOUSE COOKS OF TEXAS. Attending weekly read and critique sessions, they averaged publishing a title a year from four presses: the two non-fiction, four novels, and three mid-grade chapter books.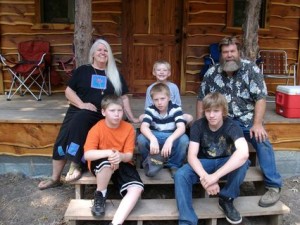 After one year of empty-nesting, the McAdoos started over with a new ready-made family of four grandsons, ages six, four, three, and newborn, and writing took a back seat. Well, actually it pretty much went all the way to the trunk. But the move to Clarksville, Texas, she and Ron founded the Red River Writers' Workshop and resumed their passion. That led the couple to also join the North East Texas Writers' Organization (NETWO) in Mt. Pleasant, Texas.
In April 2012, Caryl met Mary Sue Seymour at NETWO's Spring Conference and wrote her first historical Christian romance set in the 1800s especially for the agent. (Whose maiden name was remarkably McAdoo!) Mary Sue offered representation in August, and VOW UNBROKEN sold in October to Howard Books, an imprint of Simon & Schuster. It debuts on March 4, 2014.
Six months later, book two in the Texas Romance series debuted, HEARTS STOLEN set in 1839-1844, Then two months later a new Biblical fiction series The Generations was born with volume one A LITTLE LOWER THAN THE ANGELS, the story of Adam and Eve, Cain and Sheriah, and Abel in Paradise with a kindly old cherub named Namrel!
Caryl, also known as Grami, has seventeen grandsugars and enjoys gardening. A proclaimed psalmist, she's dedicated to serving God and honoring Him in praise and worship. She loves that He frequently gives her new songs. Denying luck–good or bad–she believes all good things are from above according to Scripture and prays all her stories will minister His love, mercy, and grace to their readers.