A Little Lower than the Angels
Biblical Fiction
Volume One
Debuted November 2, 2014.
For the first couple, obedience trump rebellion then leads to redemption. But what of their children?
Seduced by evil, Cain kills Abel then flees with his sister to the land of Nod. Bereaved of all their children in one day, Adam and Eve are heartbroken, but not until they both see a vision of Abel in Paradise with their childhood pets Lion and Lamb does Eve find the strength to wait upon the Lord for His blessing.
Though dead, Abel's soul lives on in Paradise, resting, learning from the old Cherub who God sent to teach the murdered son of Adam. He listens to the war songs the legions of angels sing that battle for his brother and sister and even his mother's soul. But best of all, the angel elder tells him stories of Heaven and how one day, man and God will be reconciled.
Again the first couple is tested, and must wait upon the Lord's blessing to begin again. Can they walk in obedience for seventy long years? And Cain's offering is finally accepted, but by whom?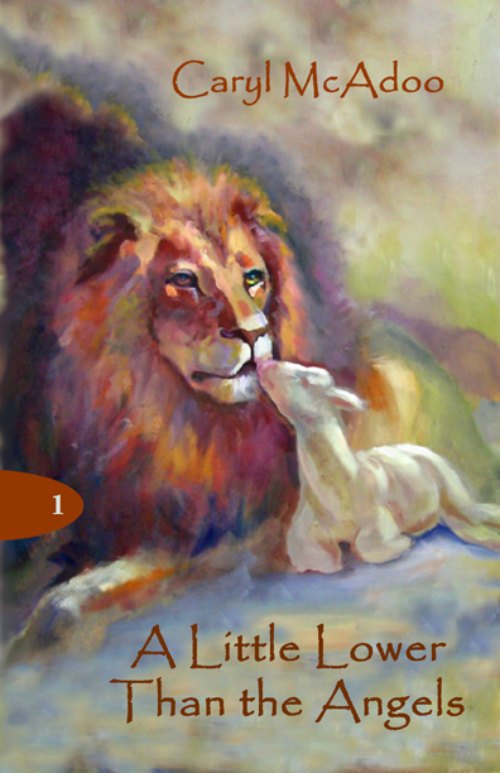 Hi Caryl, I just finished A Little Lower than Angels. It was Amazing. I truly loved everything about the book. I went on Amazon to review it and it's not coming up as a book title yet. I have never read Biblical fiction before and never thought I would enjoy it.. I was so happy I read this book. I loved the notes at the end. They were so helpful in understanding your writing and ideas. I must say I was crying or very emotional throughout the whole book. I would love to chat with you sometime on your spiritual insight. 5 star book again and 10 hankies at least.
Debbie Gnomes, a reader in Grants Pass, Oregon
Well done, good and faithful servant of God, Caryl McAdoo: my first thought after reading A LITTLE LOWER THAN THE ANGELS. This Biblical Fiction fleshes out the creation stories we all know so well and brings God's beloved first couple and their sons to life. A LITTLE LOWER THAN THE ANGELS does not take away from the truth of the Scripture, or add to them (as it is Biblical Fiction), yet it fills in blanks with what could be a possibility. Like Caryl's other works, A LITTLE LOWER THAN THE ANGELS Angels is very well written. What this book did for me: Revelations of what could be stirred my soul. My heart soared from its reminders of how the Father loves us, and I raised my heart in praise to The Creator. T refreshes my knowledge and love of Scripture and of angels, too. The only other book that has done that for me on such a level is the Holy Bible, and like the Holy Bible, this small book is one that you will want to pick up again and again. I especially appreciated the end of the book, Search the Scriptures, where Caryl lists a few of the Biblical clues (from the King James Version) that guided her work of fiction.
Holly Michael, author of Crooked Lines and First and Goal: What Football Taught Me About Never Giving Up (a devotional)
I enjoyed this Biblical Fiction story! This first story centers on Adam, Eve, Cain, and Abel. Have you ever wondered what it would be like, to live during their times? Caryl McAdoo puts together a story that makes you feel like you are there. At the end of the story is a list of questions and scriptures to see how her fictional story lines up with the Bible. God's comfort and grace have been with us from the beginning. Travel back in time and see it in operation. Namrel is an angel who watches over Abel after Cain has killed him. Abel has questions and Namrel answers them as he can. I had never thought so much about these characters as I did when I read this story. Adam and Eve living in the Garden of Eden are brought to life as Eve is tempted in the Garden by Satan. Why did God reject Cain's sacrifice but accept Abel's? Why did Cain react the way he did? A LITTLE LOWER THAN THE ANGELS is a wonderful Biblical adventure back in time! I look forward to reading more of these stories, bringing to life the men and women of the Bible while explaining the plan of salvation.
Sally Shupe, Virginia reader