a Historical Christian Texas Romance Novel
Book Eight
Set in
Love may cover a multitude of sins, but not knowing all the facts can also get a man killed.
A family calamity gathers the clan, then a dying request tests loyalties and changes lives. New York City's posh society, living on a rugged Texas hill country ranch, and the isolation of Alaska's frozen tundra share little commonality and make going from one to another difficult at best. Still, destiny drives Crockett and his sister Charlotte where neither wants to go or thinks they belong. Second and third generations of the Buckmeyer progeny encounter danger, challenges, heartaches, and joys. But then reunions are all the sweeter for it.
This tale continues the breathtaking—and sometimes heartbreaking—family saga of the Buckmeyers, Baylors, and Nightingales that readers around the world have come to love.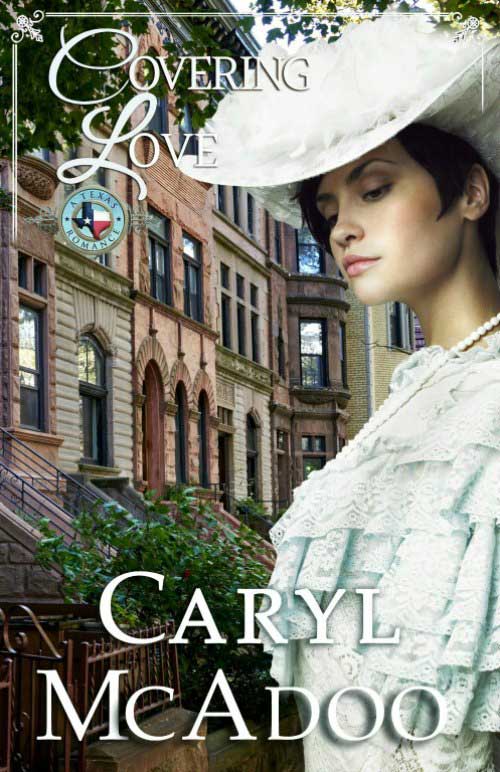 COVERING LOVE can be read as a stand-alone. As with all Caryl McAdoo's novels, it is beautifully written. The Buckmeyers' epic story continues, cleverly written, almost a two in one, showing the power of dreams. There are the themes of family, forgiveness, trust and guidance. Submitting to God and following Him is of vital importance. Another cracking novel in the Texas Romance epic. I am looking forward to the next installment.
Julia Wilson, Reader in the United Kingdom
I loved reading COVERING LOVE, an amazing story filled with all the extended Buckmeyer's family members with younger ones' love story. Great plots for each character brought laughter and tears throughout this great historical romance. Six year old little Evelyn (Evie) reading May's story about Houston and Leilani's adventure on the Gray Lady added a lovely perspective to this adventurous book filled with love, faith, determination, hard work, and romance. I look forward to reading book nine, Mighty to Save. McAdoo's books must be read by those who enjoy historical romance that are filled with clean, heartfelt romance and the Gospel!!
Marilyn Ridgway, reader in Illinois