a Historical Christian Texas Romance Novel
Set in 1853-1854, debuted September 1, 2015. This is the first book of the series that has two heroines sharing the spotlight with a third who really wants to scooch in it, too!
God's perfect plan is oft so hard to determine.
In his life, Henry Buckmeyer has never been so beside himself. His little girls are so young, just babies, too young. He hates the whole idea of men coming to take them away and is inclined to shoot every one of them, but praise God for a level-headed, loving wife and step-mother! She helps keep him sane amidst the female chaos. Packed with fun, romance, deception, action, heartbreak and tears, this delightful Christian novel keeps the twists and turns coming.
Gwendolyn, Cecelia, and the youngest, Bonnie, make a pact never to break their father's heart like their big sister did. Then their determination is sorely tried when suitors show up, and he gets so pigheaded with his rules.
Will Henry survive his daughters coming of age? Will they endure and keep their promises to each other?
From one man asking to court her—who Daddy sends packing—Gwen goes to three! How can she ever decide? Cecelia knows exactly who she wants, but she's still a year away from Daddy's acceptable courting age. What if her beau doesn't know or won't wait? And Bonnie hates being the baby and wants to be grown-up more than just about anything…except her man. She is for sure and for certain in love.
Will the Buckmeyer home ever be settled and peaceful again? Will any of his daughters find true love…a man he'll approve and to whom he can give his blessing?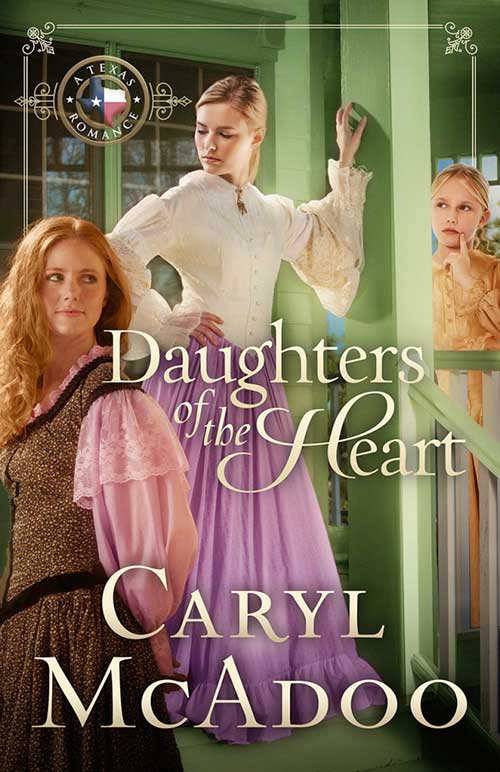 Oh those teenagers! Raging hormones, sibling rivalry, heads that are empty of anything except the cutest boy on the ranch, rebellion against parental control, full of themselves, conniving, conspiring to get their way . . . on and on it goes. Teenagers! To think, all of us were teenagers once upon a time back in medieval ages . . . at least that's what teens think about their parents. Everyone knows Mom and Dad are so out of touch and old fashioned!
Judging from DAUGHTERS OF THE HEART, nothing has changed today from the 1850s. Caryl Lawrence McAdoo has penned a book to tickle the funny bone and warm the heart. Her characterizations are spot on, her plot believable and her writing compels the reader to turn the page. With a villain or two who give rise to a span of time when the reader's heart leaps into their throat and three teenage daughters whose common sense has been doused by a healthy dose of hormones, not to mention, two parents who are kept on their toes from the antics of their brood, for sure, Daughters of the Heart will take you hostage and keep you up well past your bedtime.
This reviewer loved DAUGHTERS OF THE HEART. I do believe it is Caryl McAdoo's best book yet. Now up for pre-order, the reader would be well advised to reserve their copy. Can hardly wait to see what comes next from Mrs. McAdoo's rich imagination and gifted pen.
Cass Wessel, multi-published author of devotionals
A fun packed Christian romance novel with plenty of action, heartbreak, tears, deception, twists, and turns. Henry's daughters, Gwendolyn and Cecelia are coming of age. His oldest daughter, Mary, had broken his heart when she eloped. Therefore they along with their younger sister, Bonnie, made a pact never to break their father's heart like their big sister had, but when suitors show up, it's hard for them to stay determined to keep their promises to each other. Will they ever know God's will for their life? Will they find true love? Will Dad accept a suitor for them and give his blessings? Their loving stepmom helps them by helping their dad to see they are growing up, and he can't hold them back. Will they realize that stepmom, May, loves them as daughters of her heart?
Joy Gibson, a Tennessee reader and pastor's wife
I love this series and enjoy revisiting the family of Henry Buckmeyer. So much has happened over the years, but now two of his daughters are coming of age, and when beaus start coming around, things get interesting. Gwendolyn is of age, but Cecelia is not, yet that doesn't stop her from falling in love and hoping Daddy will reconsider his strict ways and rules. It is never easy for a father to let go of his babies, no matter how old they are. So many emotions, so many confessions, these stories are honest and open with redemption found and forgiveness being offered. The plot kept me captivated and the pages turning. The dialog is clean, open, honest, and emotional. The characters are enduring and entertaining at times. I would recommend reading this series in the order it was written to fully appreciate this family, their struggles, trials, love, compassion, heartaches and how they honor God in their lives and try to live for His glory.
Kathy Watts, a Tennessee reader