a Historical Christian Texas Romance Novel
Book Two
Set in 1839-1844 in the Republic of Texas debuted September 5th, 2014.
When one's love is forbidden and there seems no way for life to ever be right, hold fast to God, be obedient to His Word, and honor Him in everything. Nothing is ever too hard for Him.
Unbeknownst to loved ones, a headstrong young wife is snatched off the prairie by two Comanche braves, carried north of the Red River, and traded to their war chief for ponies. After five years, a small detail of Texas Rangers rides into camp, and she determines that day will bring freedom or death. She'll remain captive no more.
Sassy Nightengale almost gives up hope until a company of Texas Rangers rides into Bold Eagle's peace camp. She learns they've come for the negotiated exchange of stolen white women, except her name isn't on their list. Purposing in her heart to escape captivity with her blue eyed, four-year-old that day, she does everything she can to be noticed.
Famed Texas Ranger Levi Baylor spots the red headed beauty and agrees to the war chief's price adding his personal horse and weapon to the Republic agents' offerings. The trade propels the couple on a trail of joy and sorrow. Sweet love blossoms but must be denied. His integrity and her faith in God keep them at arm's length, not allowing even a kiss. Sassy's still married to her son's father, and Levi's honor bound to deliver her home—to her husband.
Can their forbidden love be made holy? God hates divorce. Is it wrong to hope, expect Nightengale to relinquish his wife and son? Will Sassy and Levi find the redemption they seek for their troubled souls?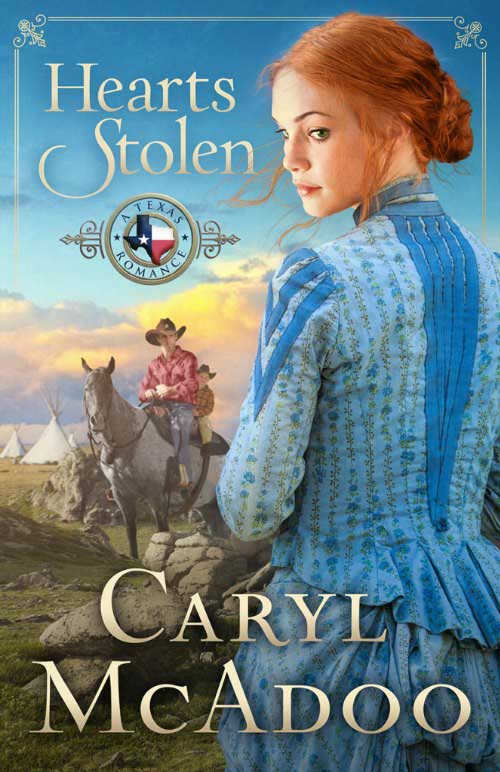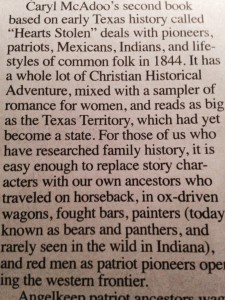 A few of the words in the article titled Patriot Day at Angelkeep by Alan Daugherty.
Alan Daugherty
I laughed, cried, cheered, and flinched with these characters. I hated saying goodbye and hope to read more about them. HEARTS STOLEN is a historical Christian fiction book, the second in the series. Vow Unbroken is the first, but you don't need to read it first in order to enjoy HEARTS STOLEN. But now that I've read HEARTS STOLEN, I have to go back and read Vow Unbroken just because I'm not ready for the story to end. Be ready to start a story you won't want to finish. Cello
Rosaleen "Sassy" Fogelsong Nightengale… is a wonderful character. She has smarts, isn't afraid, and is a very likeable heroine. Her faith in God kept her through her captivity of 5 years, until one day Levi Baylor shows up to rescue her and her child–Charley Nightengale is…a fun character. [His]…dialogues and ways of thinking had me laughing. I'd love to see this as a movie. He'd steal the show. Levi Baylor is a Texas Ranger. As he and his fellow Ranger Wallace Lusk transport Sassy and the other women back home, it is fun being along for the ride. You feel like you are really there. Levi and Sassy are great characters together and you are rooting for them to get together, but she is still married to Charles.
A fellow captive, Laura, has her baby after they rescue her. Wallace is enraptured. But is that love strong enough when he finally meets Levi's cousin Rebecca? I loved this angle of the story. The hearts of these men are so great, and the love for their women so strong, they'll go through anything to keep them safe. All the characters have to learn they have their pasts and none of them are perfect. But with God, peace and love reign no matter what you are going through. Peace like one of Sassy's Granny's heavy quilts. Now that's peace!
I thoroughly enjoyed this story by Caryl McAdoo and can't wait to read more. The dialogue is engaging, the characters are unforgettable, the setting and descriptions move the story along without taking away from the story. I received a copy of this book in exchange for an honest review.
Sally Shupe, Honaker, Virginia
Get ready for a wild, uplifting, heart-tugging, page-turning ride. HEARTS STOLEN, a historical Christian Western Adventure Romance grabbed me at the start with Native Americans capturing the heroine, Sassy. Her feisty, fighting spirit will win your heart from page one. Immediately drawn in and mesmerized, I couldn't set the book down until the end. Actually burnt dinner because I couldn't cook and read at the same time. Forget eating, I ate this book up. Caryl McAdoo is a master storyteller who weaves in Texas history into a well-crafted plot with unforgettable totally lovable characters. I didn't think I'd enjoy another book as much as her first Novel, Vow Unbroken, but Hearts Stolen is even better. Read Vow Unbroken for sheer entertainment and meet the characters who reappear in Hearts Stolen (also a stand alone book). Hurry up and get the next book out, Caryl!
Holly Michael, Kansas City, Missouri
I love the book HEARTS STOLEN by Caryl McAdoo. The characters were unique and captivating. Sassy has a son that is the same age as mine and yes, I could see him getting into mischief the way Charley did. The best way to enjoy a book is to be able to "put yourself in it." That means you smell, hear and feel all of the things around you…if it means cooking over a campfire, you feel the heat and smell the food cooking. If you are being chased by the Comanche, you feel your heart racing and the horses hooves pounding the ground. In reading this book, Caryl was able to take me back in time and let me experience the same things that her characters did. I found it hard to put the book down because I wanted to see what would happen next. I would recommend this book to anyone who enjoys the characters and story line coming to life and wants to immediately be captivated from the get-go.. I can't wait until the 3rd book comes out!
Michelle Rhoden, Padukah, Kentucky
A really great book. A captivating story of what is thought to be forbidden love until the very end. I love the miracle ending. All through the many adventures and struggles, Rose always returns and leans to her faith knowing somehow God will bring her through. Trying always to do the right thing although her heart wants something else, it is so exciting to read how God changes them and circumstances to give them their hearts desire. Exciting storyline from beginning to end. The characters come alive as you read and you can feel their emotions. Very well written historical Christian western adventure novel. Makes you want to read more books with these characters to see how their lives are lived out.
Joy Gibson, Oneida, Tennessee
HEARTS STOLEN, the second in "A Texas Romance" series, is a wonderful Christian romance about a 15 year old girl, married to a less than perfect man, who is stolen by an Indian tribe. Well-developed characters and a writing style that brings pictures to your mind of all that is happening, made this book a joy to read. I was impressed by the fact that each character had their own unique story and way of speaking which highly contributed to the realism of the story. Probably the best part of this book, for me, was the way the main character always returned to her faith in God when dealing with each and every situation in her life. What a joy to read about characters who maintain their faith even through the most difficult of real life situations. I highly recommend this book to anyone who enjoys Christian fiction romance in a western setting.
I will definitely be going back to read the first book in this series, VOW UNBROKEN.
I was provided a free copy of this book in exchange for a fair and honest review.
Linda Komondy, Sterling Heights, Michigan