a Historical Christian Texas Romance Novel
Book Three
Set in 1850-1851 in the new State of Texas debuted January 9th, 2015. 
Loss both tests faith and almost eradicates any expectations of enjoying a happy-ever-after life. However, the decision to temporarily change one's existence, no matter how successful or how hopeless, can lead to rebirth—in either case.
New York novelist May Meriwether decides a heroic Texas Ranger will make a great love interest for her new novel's heroine. Bored to tears with muscle-hard dapper heroes and their fluffy, semi-brainless counterparts and loving adventure, she decides to go to the Lone Star State and tells her right-hand man, constant companion, and confidant Chester to make the arrangements post haste.
While strong desires for a husband and children have been long since relegated to the recesses of her heart, the self-confessed old maid throws caution to the wind when she meets a near-perfect widower He resurrects a smidgeon of hope that dreams can come true. Only his impenetrable, superstitious religious beliefs stand in the path to her falling head over heels, those and his everlasting love for his dead wife.
Would there ever be room for her in his heart? And would he give up his fanaticism over God?
An unexpected romance surprises both. Hope is reborn in God's unfailing love and grace. Can a life built on lies find the Way to confession, forgiveness, and true joy? In a day when the church offers the only stability on the 1850 Texas prairie, these unlikely players find one another and fall in love. But will it be enough?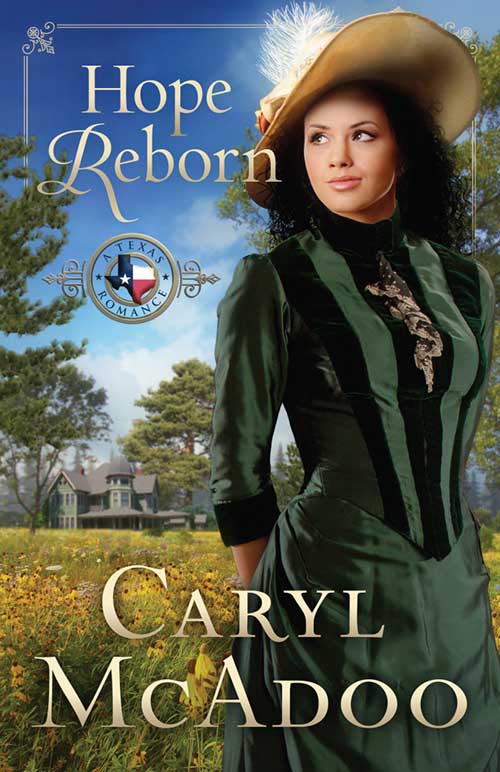 Another fantastic story by Caryl; if you have not had a chance to read some of her novels yet, you have got to pick one up and read it, as soon as possible. Yes, like right now. You should get on your Amazon account, search her name, and just pick a book. Any book will do. They are all great, and it is a perfect day to start a new story. It is well-written, clean, and has you hoping and cheering for everyone involved.
Angela Gibson, Muskegon, Michigan
I loved it. A real Christian story. May is a very stubborn woman, for her The Lord is just fairytale. But she fall in Love with Henry a true believer, he is a wonderful, tender, compassionate, strong man. I love Henry an amazing man. I love Caryl books because they are exciting, funny and with a lot of love and respect. You will be happy to know that the characters from Hearts Stolen have a good part in the story too. Many great characters and great dialogues.Never boring, even the part on the steamboat that in my opinion was a bit long, but because of the great dialogues it was more than bearable. I can't wait to read the next book. Great job Caryl McAdoo.
Catherine Peterson, Copenhagen, Denmark
After reading Caryl's other books, I know that when I start one of her stories that I am going to love it. This one was no exception. It is the third book in one of the best historical fiction series about early Texas that I have read. The reader is introduced to spunky May Meriweather in this book and picks back up with the lives of some of the other characters from the first and second books including Charlie, who you can't help but love. I was furnished with a copy of this book in return for an honest review. I definitely recommend this one as well the first and second books in the series and will be looking forward to the next book by this author.
Ann Ellison, Abilene, Texas
I read this book about a Mont ago and am still relishing it. I waited and waited to read this third book in the series. I was so happy I read it in a day. I love Caryl's writing. I adore the fact that my Characters were back including Charlie whom I adore. I can promise you if you want a great book or amazing series you will not be disappointed with this author or this series. Just like the other books in the series you just can't put it down. I am holding my breath for the next book. Great job Caryl.
Debbie Gomes, Grant's Pass, Oregon
HOPE REBORN is a fantastic Historical Christian romance set in Texas in the 1850s. Can a self professed old maid and a widower still in love with his deceased wife find happiness together? I recommend you read this book and find out. This is book 3 in a fantastic series. I recommend them all. I love Caryl's style of writing and she has a great way of developing her cast of characters. I did not want to put this book down. I received a copy of this book for my review. I would like to thank Caryl for the pleasure of reading and reviewing her book.
JoAnn Stewart, Defuniak Springs, Florida