a Historical Christian Texas Romance Novel
Set in 2 eras : 1850s-60s and 1928.
What if Abel had killed Cain, but there was no jury of his peers?
In 1928 Georgia, a black man who kills a white man is automatically guilty, but the bedwarmer's son, an ex-slave, is no normal black man. And the dead white man is his half-brother. Once his lily-white lawyer lady learns the truth, everything changes. Can she save him from swinging?
Will the bedwarmer murder the one she's been bought to serve?
From the antebellum South, come travel the dusty trails of Jim Crowe Dalton, Georgia with slave and master, saint and sinner. See if God is really big enough, if He truly cares about His children. McAdoo has done it again, this time in a brand new way. A delightful morsel for the palates of Christian readers world round.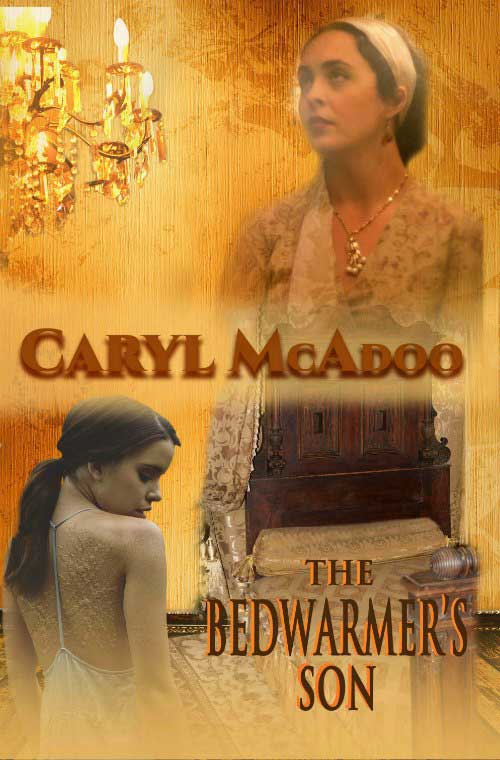 Few authors could pull off the joining of both the Civil War era and the Roaring Twenties in a single novel. Caryl McAdoo's done it convincingly in her Christian Historical Fiction "The Bedwarmer's Son." A readers' blessing, the author's brilliant encompassment. –Alan Daugherty, columnist The News-Banner
The BED WARMER'S SON is, I believe, one of Caryl McAdoo's finest books. I love this period of history and emphasize the necessity of authors telling the whole story. Mrs. McAdoo has done her research and produced a book spotlighting lies and truth.
Mrs. McAdoo's characters are well developed and multi-dimensional. The story line kept me on the edge of my seat. And Billy and his mama, Jasmine, win hands down as my favorites. The author's word weaving skills warm the story with delicious southern vernacular and cultural traditions. While the author was faithful to include the gospel message of mercy, grace, and hope, she in no way crossed the divide into preaching. While Mrs. McAdoo writes serial type books, she always closes her book-baby-gifts pointing us to joy, hope and peace in Jesus Christ. And THE BED WARMER'S SON is no exception, but is perhaps the best of her best.
DiAne Gates
THE BED WARMER'S SON weaves together two romances to form a tale reminiscent of the great southern writers of the last century. More than a classic romance, THE BED WARMER'S SON falls in the category of an historical novel. While faithful to the genre, this book transcends the norm by dealing with complex times, contentious social issues, and important questions of faith.
The compelling writing and interesting characters kept this reader flipping pages. This reviewer read this gripping novel in one weekend and recommends this story for the reader who is looking for a book that breaks away from the standard romance formula. Well written, compelling, this is a book not to be missed.
Cass Wessel, multi-published devotional author