Just Kin
JUST KIN is set during the most terrible days of American history, the Civil War period, 1861-1865 and debuted January 2--my sister's birthday--2016. It is the first story where the hero and heroine are characters from the series, both introduced in book two, HEARTS STOLEN set in 1844; namely Charley Nightingale and Lacey Rose Langley. On this page–if you keep scrolling–you may read a few of its FIVE-STAR REVIEWS! Or you can click and read more
REVIEWS at AMAZON
!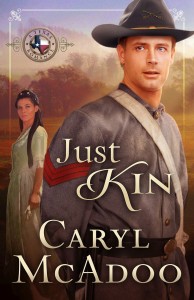 I figured I'd pick up a few more male readers because of the period, but I didn't include too much of the actual war, just a little to give its flavor in those difficult days. I loved getting reacquainted with the grown-up Charley. He stole my heart as a youngster (his character based on my grandson Seth McAdoo) and I love him no less as an adult...even though he didn't make every choice I hoped he would, he got it right in the end! And sweet Lacey Rose, named after Wallace and Rosaleen (Sassy). Her bad decision set her life on an undesired course as it is with fifteen-year-old girls today who run away. She falls under the influence of shady  men who use and abuse her, and she is left to try and justify it all in her mind, with guilt and condemnation heaped on her shoulders.
What others are saying, FIVE STAR REVIEWS:
I love this series! Lacey, rejected in romance by Charles, runs to her Comanche dad's people. Her escapades in route are a treasure. Being a follower of this "Texas Romance" series by Caryl McAdoo, I expected a good book #6 story—and discovered more, even better than anticipated. Get it, read it, and read at the end the first chapter of book #7, "At Liberty to Love", releasing May 2016. The list of Mrs. Charley Wanna-Bes is sweet, albeit almost comical the way he swoons and then dodges the gals. "A lady in every port: they'd be sayin' 'bout Charley if he was a sailor rather than a Confederate Buck Sergeant. Not much war story involved in this series of adventures while a soldier is on leave during the Civil War years 1861-65. I enjoyed a segment where the congregation began offering their "testimonies" in the small town church worship service. It brought back memories of worship during my youth (but not as long ago as the Civil War. 🙂 Half-breed Lacey's testimony: "So, my testimony is this: No matter how bad you mess up everything, the Lord will show His mercy, and He can fix it." She lived a troublesome life, and actually period believable—Fiction feeling Real. Available Kindle or softcover. I can recommend hardcopy as you WILL want to share this fun read with others.                                                                                                                            --Harold Wolfe, an Amazon "Top 50" reviewer! I loved this addition to this wonderful series where we have watched this family and their friends go through trials, rejoicing, redemption, heartache, and life struggles. Lacey Rose is only sixteen when the Buckmeyer men are once again called to war, but this time, it is the war between the states. Lacey has been in love with Charley Nightengale since she was a little girl. A rash move, of kissing him shocks everyone and harsh words spoken in anger breaks a young girl's heart, but even worse, is a letter that sets the wheels in motion. Running away seems like the answer, but it only causes heartache and confusion. Then one who seems like a savior is really a user. Deeper in the sin, farther away from God, feeling rejection from those you love, and living a life that goes against everything you have been taught, takes you farther from those who truly love you and care about you. God never walks away, it is always us humans, and when we repent and turn back towards Him, He is always there with outstretched arms to bring us back into His fold. Lacey will go through years of pain, heartache and confusion, but when she repents and ask God for forgiveness, He welcomes her back. How far will true love go to find each other? I can't wait for more in this wonderful saga. Disclosure: I received an advance e-copy of this book in exchange for an honest review. All thoughts, opinions, and ratings are my own.                                                                                                                                                      --Kathy Watts, a Tennessee reader The Texas Romance Series is a wonderful series, and Just Kin is an outstanding addition to the series. This story follows Charley, who was one of m favorite characters from the prior books, and Lacey Rose, also introduced in the prior books, as they are now adults and trying to overcome all the obstacles thrown in their paths to keep them apart. Once again, this book can be read as a standalone, but after reading this one the reader will definitely want to go back and read the prior books in the series to get the backgrounds on the characters in this book. Caryl certainly knows how to make her characters come alive and capture the spirit of the time in which the story is set.                                                         --Ann Ellison, a Texas reader
 Buy JUST KIN now!
Read Chapter One